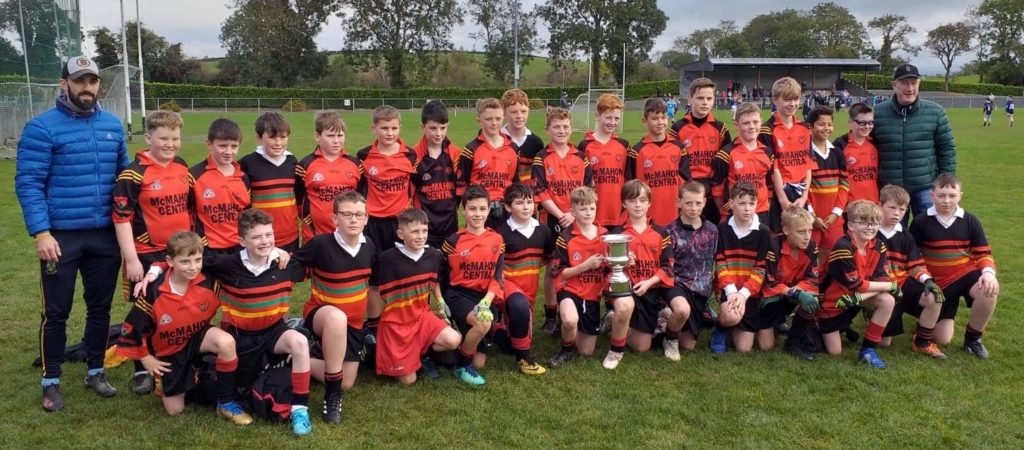 Scoil Mhuire na mBuachailli Castleblayney defeated St Mary's Boys School Monaghan in the Division 1 Primary School championship final on a scoreline of 3-12 to 3-8 to bring the Frank Mc Ginn Cup back to Castleblayney. This was a highly entertaining game laced with great passages of skillful play and excellent courageous defending. Castleblayney laid their stall out in the first quarter and opened the scoring with a right-footed score from Stephen Harvey. Livewire Tristan Nugent and mid-fielder Nico Lovrekovic added points to leave it 0-3 to no score. Monaghan boys school got a point from a free before an inspiring score for Blayney. Tristan Nugent pressured a Monaghan defender before Alex Mc Mahon pressed also and then blocked the clearance before finishing the ball to the net himself. The first quarter ended Blayney 1-3 to Monaghan 0-3.
Blayney continued in the second quarter as they finished the first, and some brilliant defending from Harry Mc Quillan, Daithi Funcheon, Tiarnan Mc Geough and Padraic Carville provided the platform for further scores from Alex Mc Mahon (goal) a point from Stephen Harvey and three excellent points from Tristan Nugent, leaving the second quarter ending Blayney 2-7 to Monaghan's 0-4.
In the third quarter Monaghan came roaring back into the game despite some valiant play from Senan Hanratty and Daithi Kelly. The Blayney lads missed a couple of chances and gave Monaghan a foothold where they added 1-3 to Blayneys 2 points to end the third quarter at 2-9 to 1-7.
However Boys School Blayney redoubled their effort in the final quarter and Tristan Nugent added 1-1, Nico Lovrekovic 0-1 and Stephen Harvey completed the scoring with a point. Monaghan didnt lie down and scored 2-1 in the last few minutes to leave it closer. Nevertheless the Blayney boys stood firm and with Tom Duffy assured between the posts with some fabulous kickouts and good work from Cooper Mc Mahon on his introduction, Scoil Mhuire na mBuachailli held on for a great victory for the school. There were great scenes of jubilation at the final whistle with players , parents and staff of the boys school basking in the glow of victory.
James Kierans Cumann na mBunscol Chairman presented the Frank Mc Ginn cup to joint captains Daithi Kelly and Tristan Nugent to loud cheers from the Blayney contingent.Tristan thanked Monaghan for such a good game and Inniskeen for the facilities. He also complemented the whole panel for all their work and Mr Hanratty team coach and Principal Eamon Mc Eneaney for their help.He concluded by calling for the customary three cheers for the Monaghan Boys School team. Other members of the panel who were there on the day and played in the round robin league section were : Charley Murray, Christian Traynor, Ryan Lynch Keenan, Liam Mc Mahon, Ryan Callan, Rian Duffy, Dominykas Rimkunas, Eoin Dignam, Conaire Casey, Cormac Burns, Jamie Cannon, Jack Mc Shane, Regimantas Narbutas, Cormac Mc Mahon, Kevin Donaghue, Max Mallon, Dermot George and Jayden Mc Dermott.