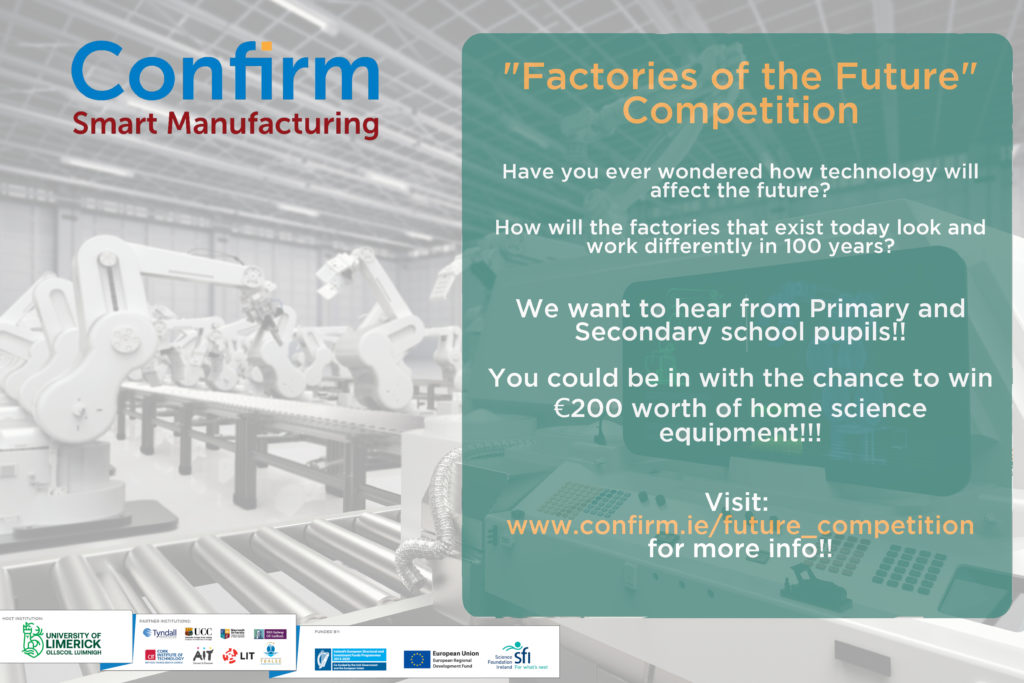 Dear Principal,
I'm am contacting you today in relation to a competition for Primary & Secondary School pupils being run by CONFIRM – the Science Foundation Ireland funded research centre for Smart Manufacturing based at the University of Limerick.
The competition itself focuses around the Future of Work and how Primary and Junior level secondary school pupils see us working 100 years from now. We are now accepting entries and the competition will close on the 5th of June.
We are inviting pupils (aged 7 to 14) to submit drawings or short video clips describing their vision of the Future of Work and they will be in with the chance to win approx. €200 worth of Home Science equipment as well as an invitation for themselves and their class to come for a tour of our new building and get an insight into the types of technologies involved in our research (robotics, virtual reality demos etc.) followed by a workshop led by our researchers.
Full details including entry instructions are on our website http://www.confirm.ie/future_competition
I've attached a poster to this email also with some detail on the competition for your students.
If you have any queries in relation to this, please contact our Education & Public Engagement Manger, Sean O Brien (sean.obrien@ul.ie)
Kind regards,
Conor
Prof. Conor McCarthy,
Chair – Lightweight Structures, School of Engineering,
Centre Director